A major benefit of pool distribution logistics is the cost savings combined with the high-priority local/regional final mile deliveries. Beitler Logistics Services, Inc. (BLS) is a third-party logistic service (3PL) provider. Our network of carriers allows us to help companies of all sizes take advantage of pool distribution
Why Choose Beitler Logistics for Pool Distribution Logistics?
Here are five Beitler Advantage Benefits for pool distribution: 
Quick Responders
We will find a solution if a problem occurs during the shipping process. Your product will arrive on time and undamaged.
Competitive Pricing
We work with a broad network of carriers. Our network allows us to provide you with the most competitive pricing available.
Expansive Pool Coverage
We service almost every state in the United States monthly. We will make sure your product arrives at its destination.
Industry Experience
We work with numerous industries.
Some of the industries we have experience with include:
Retail

High value

Food and beverage


Medical

Consumer packaged goods (CPG)

Packaging materials

Industrial products

Automotive
Commitment to Superior Logistics
We will exceed your expectations and create value for your company. We bring decades of experience, trust, and follow through to the table. 
Retail Pool Distribution Advantages
Retail pool distribution allows all retailers (Fortune 500 and smaller companies) to combine shipments traveling to a specific region. Ship the packages from your distribution site, and BLS will handle the rest.
BLS will handle the following:
Package detail at every stage of shipping and receiving
Inventory visibility and control
Sort and seg
Retail store delivery
Special Requests?
BLS delivers on special requests. We have experience with disaster deliveries, expedited shipments, new store setups, tradeshows and more. 
Retail Pool Distribution & Smaller Companies
BLS's network of carriers allows us to work with all sized shipments. Making sure smaller companies can receive the same cost and time benefits of pool distribution.
Pool Distribution & Pool Consolidation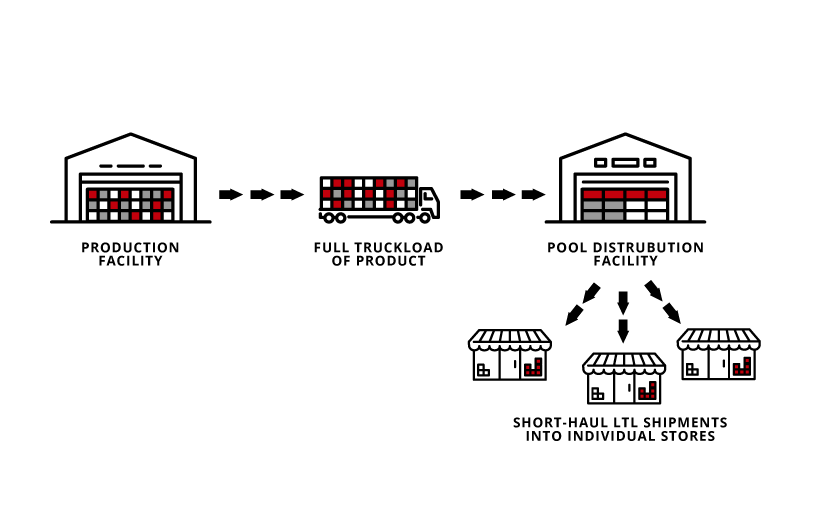 Combine pool distribution logistics and pool consolidation for an efficient delivery system and reduce the number of needed receiving/dock doors. We will coordinate shipping schedules, trailer schedules, and delivery dates with your shipping department.
Benefits of Pool Distribution Logistics
There are many advantages when using pool distribution. Here are three immediate benefits:
Cost Savings
LTL shipments typically receive the best rates for high-volume shipments. If you lack a large volume, LTL could cost more than pooling distribution.
Rapid Delivery
Packages arrive faster when pooling truckload shipments. Pool shipments have minimal stops in between since they are traveling to the same geographic region.
Environmentally Friendly
Choosing to "share" the truckload with others reduces the need for multiple trucks on the road.
We Will Accomplish Your Shipping Goals
BLS is a non-asset service provider. This allows you to have countless shipping options when working with us. We can provide you with competitive pricing, an immense transportation department, eliminate redundancies, protect yourself from shipping liability, and more. 
WE'RE YOUR SOLUTION.
Volume change? Supply chain issues? Financial health difficulty? We will work efficiently and quickly to help you find a solution.
Connect with us today and experience the Beitler Advantage!
Pool Distribution
Take advantage of the cost-saving opportunities pool distribution offers.We will assist you in finding the best rate from our vast network of carriers.
Truckload
Receive the best rate and truck that fit your shipment requirements. The BLS team maximizes our truckload services and freight capacity for your needs.
Specialized Delivery
Move your specialized freight/equipment safely, efficiently, and ensure on-time delivery with us. We have years of experience and access to specialized equipment.
LTL
Secure the best LTL rates for your shipment requirements from the BLS experts. They have the knowledge to find the best rates across our network of carriers.
Warehousing
Expand your logistics operations by letting us take care of all your warehousing details. Your shipments will have access to our 270,000+ square feet of warehouses.
Cross Dock
Reduce delivery times, increase product quality, and save money with cross dock. We will direct and oversee your tracking, compliance, and final shipment delivery.
Reverse Logistics
Streamline your reverse logistic needs with BLS. You will have complete shipment visibility throughout the returns process.
Final Mile Delivery
Have confidence knowing your shipment will arrive on-time and accurately with the BLS flexible, final mile delivery transportation services. 
  We Deliver on Promises
Integrity is a fundamental value within the BLS company. We strive to help you achieve all your transportation and logistics goals. When you're part of the BLS community, your success is our success.
Experienced team
The BLS team members are dedicated and committed to their customer's goals. Each team member is certified and knowledgeable in their area of expertise.
Environmental Sustainability
Know you're lowering your carbon footprint by shipping with BLS. Our focus on logistics sustainability reduces emissions, waste products and consumer energy.
Associations
We network with several industry associations. We are confident the BLS team is educated and up to date on industry trends to best serve our customers.
Our history
BLS has decades of industry experience and knowledge through our team members and affiliated companies. We have a reputation for stepping up and helping our customers.
Nationwide Service
We have built a partnership and trust with our extensive network of partners. We're proud to provide transportation to virtually any market in the United States or Canada.